Series 5800 Transient Recording Systems
Product Overview
Series 5800 is a transient recording system for explosive and other high speed recording applications like shock & vibration testing. Each measurement channel includes high bandwidth signal conditioning, digitizing rates up to 10MS/s and recording to onboard memory. Series 5800 can be used in laboratory or harsh physical environments and includes turnkey application software. A system consists of an Enclosure, I/O Module and Software.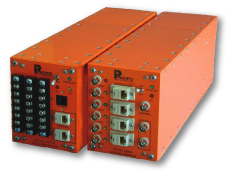 Transient Recorder Features
Record fast events, up to 10 MS/s
One pre-trigger and two post-trigger sample rates
3 or 16 channel, battery operated enclosures
Up to 50 Gs shock
Ethernet interface with Windows software
Dual inputs, bridge and ICP
Programmable for ¼, ½ and full bridges
Voltage & shunt calibration
Automatic, hands-off operation
Optional analog output for external recording
Enclosures

Rugged, DC powered enclosures are available for recording transient data in harsh physical environments.

AC powered rack-mounted enclosures are available for high speed transient recording in laboratory environments.

I/O Modules

I/O Modules have high bandwidth, dual mode (Bridge and ICP/IEPE) signal conditioning. Each channel has a high gain amplifier, programmable filter and analog output. The digitizer is available with 14, 16 or 24-bit resolution and sample rates up to 10MS/s per channel. Simultaneous sampling provides excellent time correlation between channels. Data is recorded to onboard memory that is debriefed following a test sequence.

PI580 Software

PI580 is the turnkey application software for the Series 5800 Transient Recording System. PI580 operates in the Windows environment and includes everything for system setup, calibration, data display, debrief and export for post processing.